I was thrilled to be a part of the annual Heart to Heart Community Reception which this year was held in August at Congregation Darchei Noam; and I am delighted that JSpaceCanada is an ongoing sponsor of such a wonderful program. This year two hundred people attended the reception and JSpace filled three tables.
Heart to Heart, a joint program of Givat Haviva Education Centre in Israel and Hashomer Hatzair/Camp Shomria in Canada, brings twenty Israeli teenagers to Canada every summer, ten who identify as Palestinian Israelis, and ten who identify as Jewish Israelis. The group spends two and a half weeks living together at Camp Shomria, an overnight summer camp near Ottawa, and then spends 3 days in Toronto before returning to Israel.
I feel very close to Heart to Heart as I have been involved with it since its inception in 2011, and I was honoured again to have their closing dinner in my home, co-hosted by our Canadian Arab Jewish Dialogue Group. It truly warms my heart to see these young people become good friends, realizing they have the same dreams and aspirations, although they knew very little about and even feared each other when they started, even though they live in neighbouring villages. We were very moved to hear the song they created using the themes they gleaned from both the Israeli and Palestinian anthems – freedom, homeland, inclusion and hope.
I am proud that JSpaceCanada has been a sponsor of Heart to Heart also since its inception. JSpaceCanada will continue to support this outstanding program for Israeli teenagers as they work towards building a generation of leaders who recognize the importance of creating a truly shared society. Through Heart to Heart the participants develop the skills to help make peace a reality. I am also very proud of the Canadian leadership of the Heart to Heart program – it is run by young leaders from Hashomer Hatzair, who are ardent Zionists, with a complete commitment to social justice and human rights in a shared society.
When I work with them I feel as if our future is in good hands!
Dear JSpaceCanada,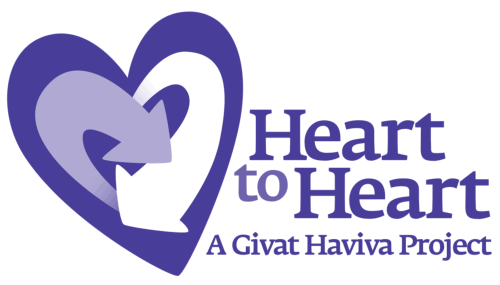 Thank you so much for your ongoing support for Heart to Heart. We are so glad to have had representation from JSpace at Monday's event. Your support means a lot to us and is a large part of the program's continued success. We hope that you enjoyed the Community Reception, and we are so glad that you were able to join us.
We look forward to continuing to work together.
Thank you!
Dalia Krusner
Executive Director
Heart to Heart